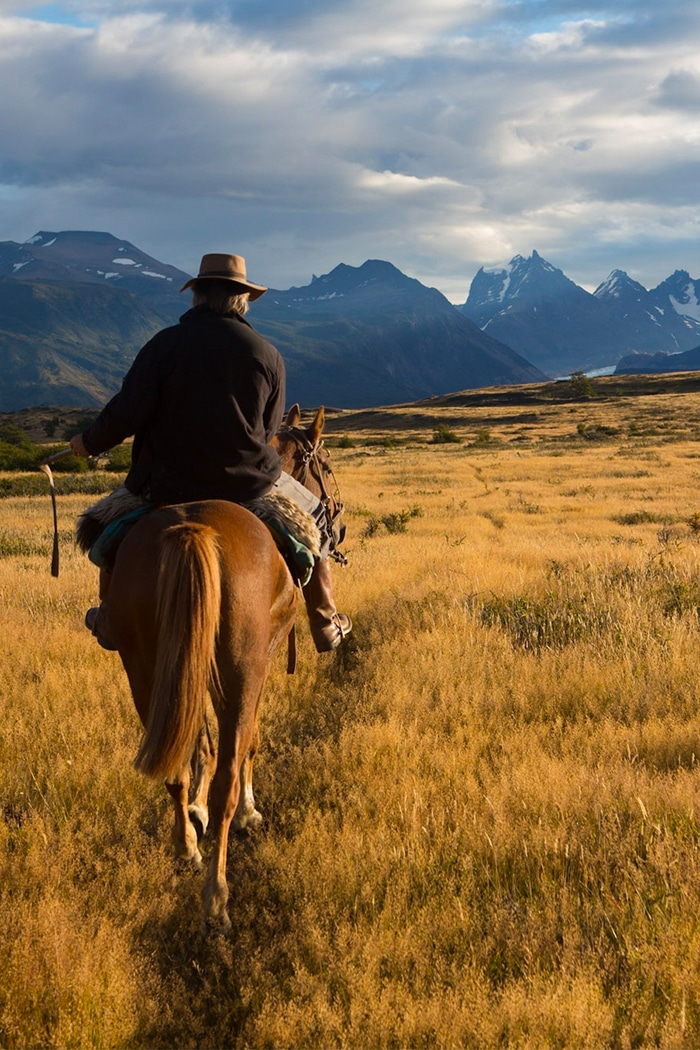 During the months of November and April, due to weather conditions, only La Laguna Post will be accessible. The program is 4 days and 3 nights: one night at the lodge and two nights at the La Laguna Post. During the months of December, January, February and March, departures are 5 days and 4 nights: one night at the lodge, second night at La Rosada Post, third and fourth night at La Laguna Post.
*Please ask for private departures out of the scheduled dates.
Horseback riding to Hidden Glaciers
A journey of horseback riding, trekking and rural life
With the horseback ride to the Hidden Glaciers you can explore the most hidden corners of Los Glaciares National Park, and live an authentic rural experience in the three posts of the ranch that serve as a base for the journey. Access a unique postcard of the Patagonian Andean forest, the crystal clear waters of the lakes, the immensity of the mountains and the imposing glaciers, while you continue towards the posts that serve as shelter and refer to traditional rural life.
We invite you to get away from civilization and feel part of the landscape, like a rider moving towards the unknown, surrounded by dazzling beauty. Adventure is part of our history, forged by those baqueanos (people who know the countryside and the paths in it, especially in inhospitable areas) and pioneers who dared to reach this area. A combination of horseback riding, trekking and country life.
What does the excursion include?
Both options includes one night of lodging in a standard room at the lodge, horseback riding every day to the different corners led by a guide from Nibepo Aike, meals and drinks during all days of the program, saddlebags for the horses, and also, the possibility of taking the excursion "Aventura", from the company Glaciar Sur.
La Rosada Post: it's a shelter with two rooms. It has four bunk beds and a dining room. It does not have a complete bathroom, only a toilet.
Laguna 3 de Abril Post: this post has two rooms. A room with 2 bunk beds and a single bed (5 people) and an area that serves as a dining room and kitchen where there are two more benches that can be transformed into beds. In another smaller cabin a few meters away there's another bunk bed and a bathroom with shower.
Difficulty of the ride: moderate.
*Riders must have experience in horseback riding for at least 6 hours a day. 
*Policy for minors: only riders over 12 years of age are accepted.
We preserve the essence of the old Patagonian ranches